Kitchen trends for 2020
While we progress into this new year, as always we anticipate new design trends, different decor ideas, and new color palates to adorn our homes in. Since the kitchen is where many families spend a large part of their time, we've decided to share the top 3 trends we found that are the most popular for 2020. Marble counters, bold, eye-catching back splash, and minimal, sleek overall designs are growing in popularity and becoming the standard in kitchen design. Keep reading if you'd like some great ideas for that kitchen renovation you've always been wanting to do!
White Marble Counter Tops
White marble has been popular for some time now, off and an on in different variations. The latest trend for 2020 kitchens is a Calacatta type marble, which has stronger lines, more definition and is bolder to the naked eye. White marble back splash, or counter tops, whatever you decide to put in your new kitchen, this trend will look great for years to come. Marble is a safe choice in order to stay on trend while still venturing out of your comfort zone to try something new in your home. Lighter counter tops open up your kitchen and make it feel more spacious, and marble is a modern design that ages well.
Bold back splash:
Eye catching, bold back splashes will adorn kitchens this year, juxtaposing the minimal kitchen designs that have become increasingly more popular. Mosaic tiles, intricate designs and even bright colors will appear in kitchens everywhere this year making for a fun pop of design and a great conversation piece in your home. Back splash brings together your entire kitchen and is one of the first things people notice because it is at eye level. Adding detailed, or even colorful design to that part of your kitchen will really make that room stand out from the rest.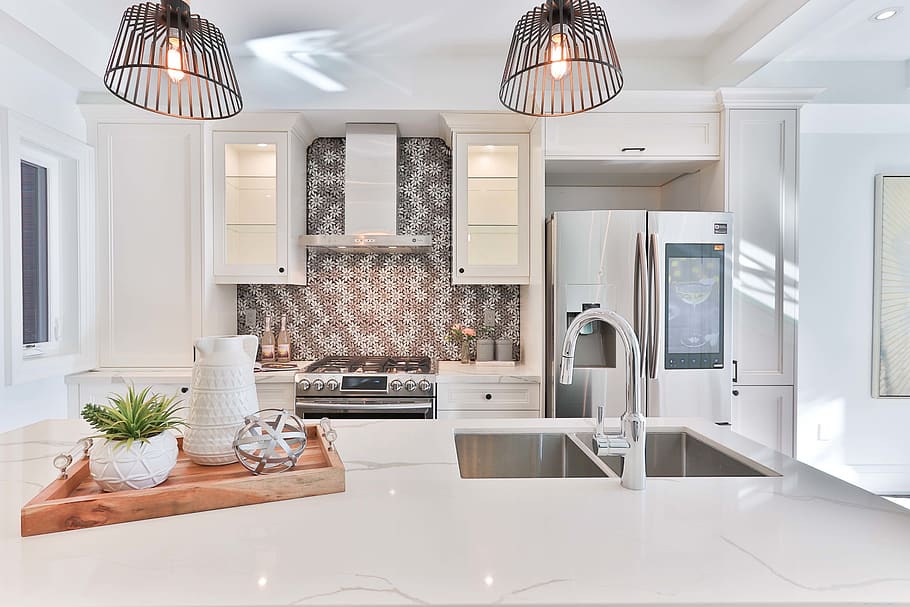 Minimal overall kitchen design:
Simple kitchens are ever-growing in popularity and becoming more and more frequent in new home design in modular homes. Simple, understated cabinet doors and neutral tones throughout are on trend this year and have been for quite some time. Oak, white, creme, and even sage green or brown and showing up more and more in new home design and are flattering in any home. Minimalist type handles, drawer pulls and even taps make for a sleek, beautiful kitchen that is easy on the eyes.