Have a cluttered living room? Constantly bumping into things? Looking for some unity in the room?
Look no further. Pleasant Homes is here to share some knowledge on how to make your living room look and feel more spacious. We are going to share with you our 5 top tips from our interior decorator. By the end of this post you'll want to walk straight into your living room and start moving things around.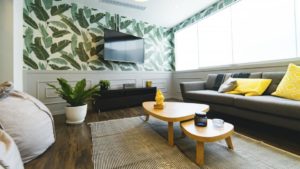 Try putting lighter colors on your floors and/or walls. Darker colors may feel cozier, but they absorb a ton of light. With lighter walls and floors, you can make the room feel a lot more lofty.
Use hidden storage items to your advantage! This will save your living room. Hidden storage items hold a ton of things that would normally be cluttering up the living room. Things like (extra) blankets, pillows, etc. We love this one from Hudson's Bay.
Try using different shades of the same color. Whatever your color scheme may be, having it coordinated throughout the room is key to a room looking well organized. Using throw pillows, blankets, decor items, and even wall art with similar colors will really pull the look together in a room, and give it some harmony.
Decisively placed mirrors. Well placed mirrors give the illusion of a much larger room. Try placing one across from a window to bounce the light, or even behind a dresser for a more glamourous feel.
Always follow the cantaloupe rule. Any decor pieces that are smaller than a cantaloupe can make a room feel crowded. You will want to opt for items that are larger and more specifically, taller.