At Pleasant Homes, we know that the people behind the business are just as important as the business itself. We're a sincere company with a straightforward vision of helping you solve your housing need, and our people are at the heart of that solution. Everyone on our team has a critical role to play and we value everything they bring to the table.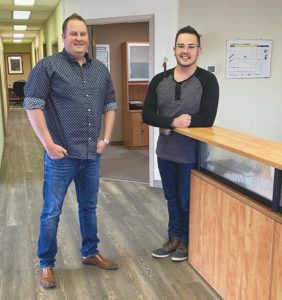 Our Sales Team
Meet Clayton, pictured on the left and Anthony pictured on the right, our Sales Consultants. When it comes to supporting you in your home buying journey, you really could not find two friendlier guys to work with. They are smart problem-solvers with a proven track record of reliability. 
At Pleasant Homes, we subscribe to the Brian Tracy philosophy: "Approach each customer with the idea of helping him or her to solve a problem or achieve a goal, not of selling a product or service."
Clayton Crowther – Sales Consultant
Fun Facts:
When not at work – you'll find Clayton fishing, relaxing with his family around the firepit and just pretty much enjoying the simple things in life
Sunday mornings with Clayton – after his three kids jump on the bed, he's the one who will make an awesome big breakfast with all the fixings
Musical tastes – country music fan
Hockey is his thing – A couple years ago he got to see the Habs play in Montreal, sat behind the bench and then – got a puck to the face during the game. Got some stitches in his lip and had some trouble eating and drinking for a few days but overall, he thinks it was a pretty cool NHL experience!
Anthony Nault – Sales Consultant
Fun Facts:
When not at work – Anthony is an avid actor who loves improv
Musical tastes – Anthony is a country music fan, his favourite artist is Canadian singer-songwriter, Colter Wall
Superhero Power? Batman and Iron Man are the best and their only power is money. For an actual power though… Anthony thinks that regeneration seems like the most useful
To celebrate – Anthony is recently engaged and getting married in 2021 to the person that he admires most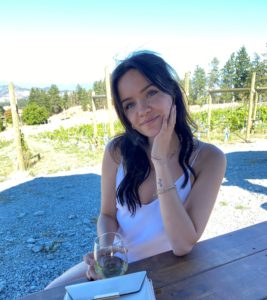 Becky Chernyk – Office Administrator, Social Media Coordinator
Fun facts:
When not at work – Becky is happiest working on her photography, her blog, working out, traveling, and spending time with her friends
Sundays with Becky – enjoying her morning coffee, working on a blog or editing a photography session. Then meeting friends for brunch!
Musical tastes – Becky loves metal music! She also loves pop, R& B and Alternative. Outdoor concerts are another great love of Becky's
Our Construction and Service Team
Our unsung heroes, this is the crew that does all the heavy lifting to make sure your home buying journey goes smoothly upon delivery and beyond. We are also one of the only organizations in the Edmonton area that offers construction services to modular and manufactured homeowners – this is team that is delivering that work. Their photos are missing here because, as always, they are busy out in the field working. We are hoping to catch up with them this winter and update this page for you. Our Service Technicians are Josiah Kinshella, Byron Keast, Glen Zimmermann and Ethan Black.
Our Management Team
Gary Hauk and Simon Boersma are the owners of Pleasant Homes and each of them brings an extraordinary level of experience to the table. Both have been in the housing industry since the 1980's, back when mullets were the hairstyle of choice for men and Pleasant Homes was retailing mobile homes. Thankfully, homes and hairstyles have both evolved since then.
Gary leads our Sales Team at Pleasant Homes and is an expert on commercial and residential development, working with government and First Nations. The bulk of Gary's career has been spent developing housing projects for Northern Canada and he has well-deserved reputation for integrity and philanthropy.
Simon leads the Service and Construction team and oversees all aspects of the delivery, set-up, and warranty service for Pleasant Homes. He is an expert in new modular construction and is an integral resource for the Modular Housing Association, Prairie Provinces technical committee. Simon is also currently serving as the President for the same group. 
Gary Hauk – Managing Partner/Sales
Fun Facts:
Musical taste – Gary loves all kinds of music, no favourite genre. Something totally fun – Gary has recently resumed piano lessons!
What superpower would he wish for? – The ability to rid the world of Covid-19 and allow us all to travel again
Favourite place he's ever travelled? Mauritius, an island nation off the coast of Africa with an incredibly diverse and peaceful culture
Sports teams – Gary is a hockey and football fan, a supporter of the Edmonton CFL team for over 48 years
Where are you most likely to find Gary on a Sunday morning? At the office
Simon Boersma- Partner/Chief Business Officer 
Fun Facts:
Family – Simon is from a big family, one of eight kids, and emigrated from the Netherlands when he was ten years old
Languages – He is fluent in Dutch, German and English
Humanitarianism – Working with the less fortunate has been a big part of Simon's life and one of his most meaningful projects was building water systems and stoves for communities in El Salvador and Nicaragua
Sports? Soccer is Simon's game and his team is AFC Ajax
Where are you most likely to find Simon on a Sunday morning? On the couch relaxing, shopping, or visiting family