Last week we posted this advice on social media. It is heartbreaking for us when someone's home buying journey must come to a halt because of something that could have been easily avoided. These are the most common mistakes we see people make.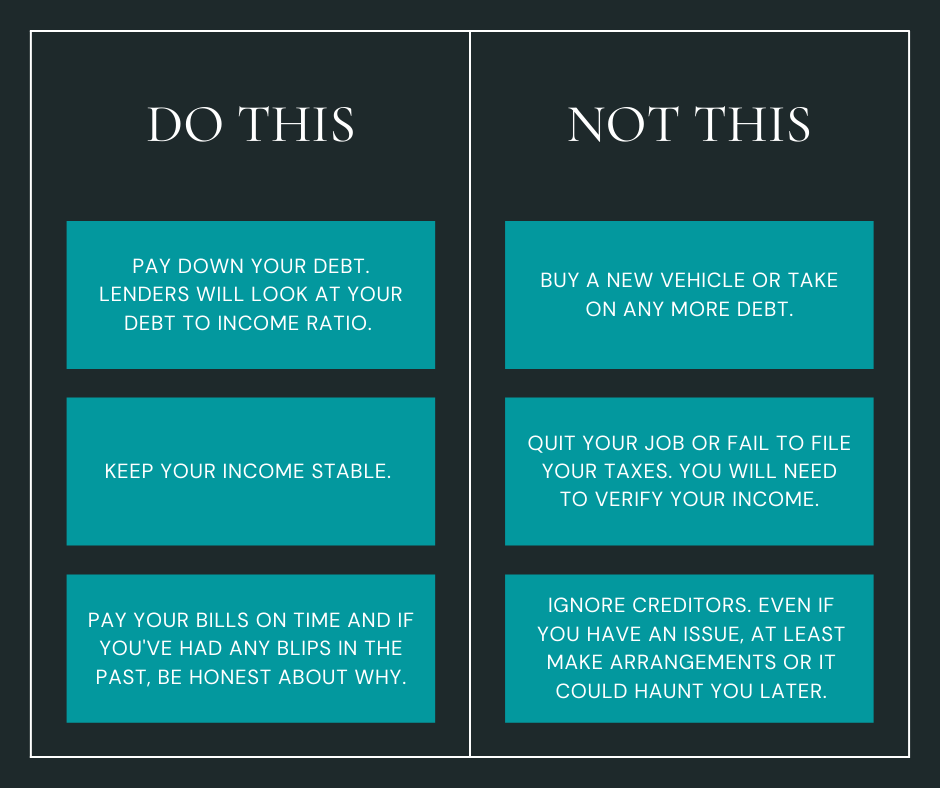 We have some amazing lenders that we work with all the time. We would be more than happy to refer you to meet with them to chat about your circumstances.
Other things you need to know…
You will need to verify your income. No matter how much your lender likes you, you will still need to verify your source of money. Your lender will want to be sure that you can not only cover your monthly mortgage payments, but also service your pre-existing debt load.
You shouldn't to be spending more than about 30% of your income on mortgage related expenses.
Your lender will want to know details about your income and job to make sure your income is sufficient, and your position is stable to continue making mortgage payments throughout the entire term period.
You will need to prove your down payment.
Here are the generally acceptable sources:
Savings or statement of investments from the last 90 days
Sale agreement of an existing property
Withdrawals from your RRSP through the Home Buyer's Plan (HBP)
Gift Letter (if applicable). If any money that you are using toward your down payment came from a friend or family member as a gift, you will need to supply a Gift Letter stating that the money is  a gift and not required to be paid back.
Financing a modular home can have its own unique challenges, but rest assured we are available to walk you through each piece of the puzzle, and we partner with some amazing local lenders. We'll be happy to introduce you.
Let's get started on building your dream! Give us a call.