Happy New Year!
New year, new resolutions. 2018 is a chance for a fresh start for so many of us. A way to clear out the old and bring in the new! At Pleasant Homes, we have done just that. We have new showhomes on our lot that are ready to be viewed – and sold – at any time! We are always bringing in new homes for you to look at, and every home is unique in its own way! Continute reading this blog for a peek into what our new homes have to offer, and why we are so excited to share them with you!
Home #1: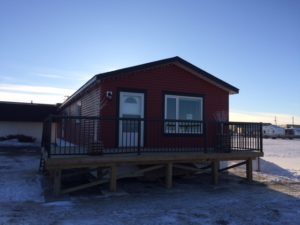 This eye-catching home is right in front of our shop – for all to see. The beautiful red color turns hea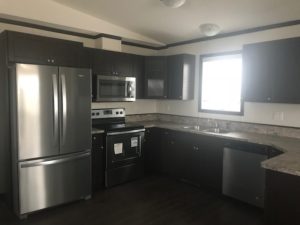 ds as soon as you see it, and the interior is just the same! This home has 3 bedrooms and 2 bathrooms,  and is 1160 square feet.
20′ X 76′, our Custom CJ has an electric fireplace and beautiful dark cupboards and floors. Stainless steel appliances and an electric fireplace pull the whole room together. And as you can see we have added additional cupboard space in the kitchen. You will never run out of storage room!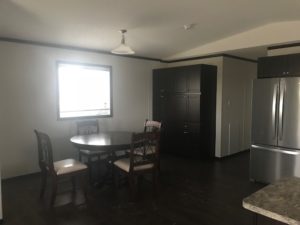 Home #2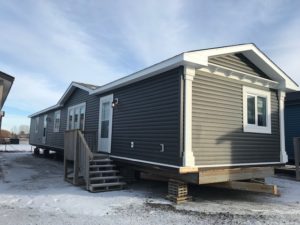 Another new home on our lot, this wonderful grey home with a gorgeous white trim has all the essentials with some amazing upgrades. The lino throughout the home is upgraded, and matches seamlessly with the grey cupboards and dark countertops.
The open concept living room and kitchen makes entertaining guests a breeze, and 3 bedrooms leaves more than enough room for people to stay. 16′ X 76′ and 1216 square feet, this home is a modern day modular at its finest.