Christmas, it's a wonderful time of year.
Spending time with the ones you love, eating delicious meals, and waking up Christmas morning to open gifts. The best part about Christmas though, is that it is the season of giving and spreading love and joy. Pleasant Homes had the opportunity to be a part of that today, when we went shopping and filled shoeboxes for children living in poverty and war stricken countries. We were overjoyed this year to add this to our list of things we do each Christmas.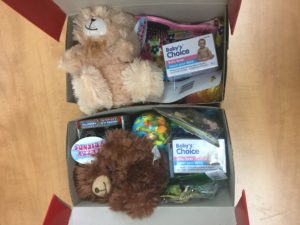 So what are the shoeboxes for?
"Operation Christmas Child" is an organization that works with various churches all over world, to aid in delivering these gift-filled shoe boxes to children who may have never even seen a gift before. The shoeboxes are filled with various items. Everything from bars of soap to teddy bears – and the children who receive them are overjoyed by it all. You have the opportunity to fill a box for a boy or a girl, and you also choose the age group you are buying for. Approximately 20$ at the dollar store will fill the box, and the church handles the delivery of the boxes. All you need to do is fill the box, enclose 10$ for delivery, and drop it off at your local collection area! (to find a drop off location near you, visit this website.)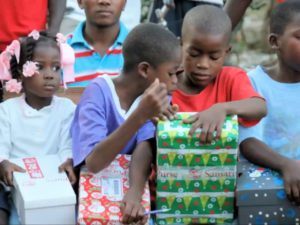 Who are the boxes going to?
The boxes are going to children all over the world. More than 100 countries receive the boxes each year! Places like Madagascar, Africa, Cambodia, Nicaragua, Romania, Haiti – Just to name a few. Click the links below to watch a few videos of children opening their boxes – the pure joy is astronomical.